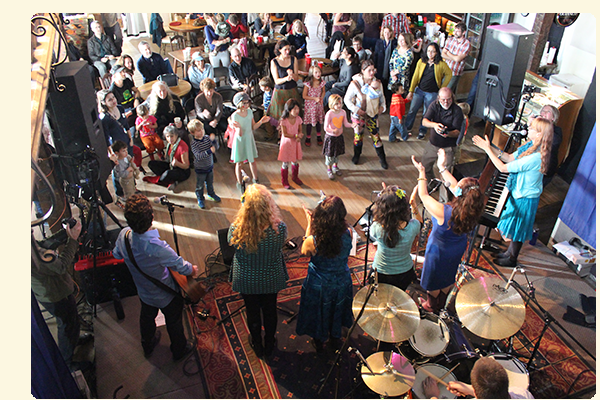 Grenadilla's joyful, up-beat songs are filled with multi-layered voices and Kwela flavored rhythms drawn from founder/songwriter Debbie Lan's Cape Town roots. Her lyrics are a powerful celebration of life, friendship, connection and joyfulness, a reflection of the possibilities of love and growth that surround us everyday.

Perhaps growing up in apartheid South Africa surrounded by a vibrant musical culture set the stage for this music and the underlying themes of unity, diversity, community and tolerance.

With a passion for kwela music and layered, lush vocals, Debbie colored her songs with the sounds and rhythms of the street music of her childhood, a worldly fusion of voices, drums, pennywhistles, saxophones, organs, guitars, the ballaphone and of course Debbie's signature piano style.

Started in 2009, Grenadilla is a multi-voiced, kwela-based collective whose sound makes for the perfect family music. On stage and on its two CDs, the band stirs up a jubilant, worldy hullabaloo that is unique.
"It's family friendly music, for sure, but it's definitely not just for little kids," says Debbie, a mother, musician, recording and teaching Artist who lives in upstate New York, as do her band mates.          
"So many parents who've bought our CDs tell us they love the music so much they listen to it in their car themselves-even when their kids aren't around."

Grenadilla's sound is sophisticated and at the same time the music has the feeling of a block party - a community gathering together to sing and play. Their flawless harmonies, danceable rhythms and Debbie Lan's crystal, soulful lead vocals are a hallmark of their CDs. A strong performing band, their rich vocal harmonies are joyful, the sound of good friends having fun together.
They offer lively, uplifting sing-along gems that defy kids and their moms, dads, friends, and grandparents not to throw up their hands, move their hips, stomp their feet, sing along and join the jol (party).

Positive, message-bearing songs like the self-explanatory, piano-fueled "Be Yourself", the optomistic "Peace will come", "Can't Wait" which rejoices in all that awaits children in the world - and the excitement of getting to it, and "Doodle doodle doodle doodle doo" which encourages kids wtih the thought that everyone can do it - and they
should get out there and do it, too. With each listening, you discover something new in their music - like a cake, it is delicious and layered.

In addition to Debbie (who's worked with Robbie Dupree, Orleans's John Hall, Dog on Fleas among others) on lead vocal, piano and pennywhistle, Grenadilla's members are AnnMarie Callan on vocals and pennywhistle, Jim Dooley on drums, Ike Shaw on guitar, organ and vocals and Guthrie Lord on bass.

"Arabella Angelique", a song from Grenadilla's first self-titled CD released in 2010 went to #1 on SiriusXM Radio's "Kids Place Live!". Uncle Rock (aka Robert Burke Warren) one of XMSirius's most popular children's artist observed, "Grenadilla is fantastic," says Uncle Rock (aka Robert Burke Warren), one of XM Sirius's most popular children's artists observed, "Grenadilla is fantastic. They harmonize so beautifully, and their music has such timeless soul."

Grenadilla has become a fast hit performing in Concert as well as appearing on Many Hands: Family Music for Haiti, an album benefiting Haitian earthquake survivors; performing at the 2009, 2010 and 2011 Great Hudson River Revival Clearwater Festivals: and appearing in the Rumpus Room on XMRadio's "Kids Place Live!"

"There aren't enough communities making music together in the world today," says Debbie. "Kids and adults spend so much time alone in their rooms, with their games, TV's and computers. We Grenadillans want to encourage all people, not just 'musicians' to make music a part of their daily lives, to pick up an instrument, open their voice and play and sing along, making music just for the fun of it."